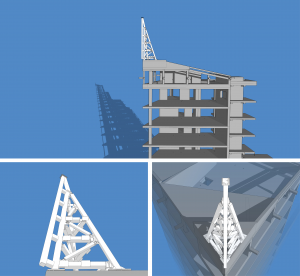 Centristic ltd in Newton Abbot, Devon were commissioned by Kier Construction to detail draw, fabricate & install the Hot Dip Galvanised steel structure that forms the Spire to Plymouth's tallest building. It is a significant landmark project making it one of the tallest buildings in the south-west.
Drawings were modelled in 3d within the building BIM, which proved invaluable in coordinating the various elements.
Galvanised steel was selected as the primary material for the Spire to ensure longevity of the structure and support to the cladding whilst also providing a cost effective solution to deliver the design concept and technical requirements in such a demanding position.
At 78m high, Beckley Court on Cobourg Street, Plymouth will dwarf the city's current tallest building, the 14-storey Civic Centre.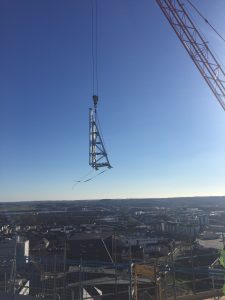 The project will provide 507 beds across 164,935sq ft of accommodation & will feature a mix of cluster flats, studios and two-bedroom flats with commercial space provided on the lower ground and ground floors, there will also be a management suite, reception area, common rooms and launderette.
For the full gallery of the spire fabrication and installation, please click here.