Situated on the site of an ancient volcano, Moons Hill Quarry in the Mendip hills provides a large reserve of Basalt. The task for Centristic was to design and install a replacement process plant within a tight working area, whilst allowing the client to continue production. The project progressed as planned, even with the British weather doing its best to slow the site team down, and commissioning is almost complete.
John Wainwright & Sons have operated a Basalt quarry in the Mendip hills for over 100 years and came to Centristic in 2012 with a plan for a new plant with a view to increase production.
The plant consisted of a new scalping and secondary crushing station, being fed by extended existing conveyors from an existing primary crushing area, new scalping conveyors and a radial conveyor allowing 2 sizes of scalps to be stocked and blended. The secondary product entered a new tertiary crushing station via a new feed conveyor and fed onto a Selector screen.  This material then fed through 2 cone crushers and then via a new conveyor, was transported to an existing screen house. A refeed circuit was added along with a new loadout system with new bin outlets and conveyors with suitable clearance to allow for rigid dumpers to take screened materials to the stocking area.  To comply with local planning the new plant needed to have minimal visual impact as the existing process area is situated close to a main road and small town. With close liaison between Centristic and the client, the design was finalized and work could begin at the workshops and on site. Using the Tekla design package, the draughting team were able to not only produce fabrication drawings and details for suppliers, but also 3D fly through models of the new secondary and tertiary crushing sections for the client and their staff to see, giving them an opportunity to offer suggestions for parts of the buildings where they knew there were specific needs. i.e. areas where increased access would be required or due to the varying moisture content of the product, where extra washdown points needed to be positioned.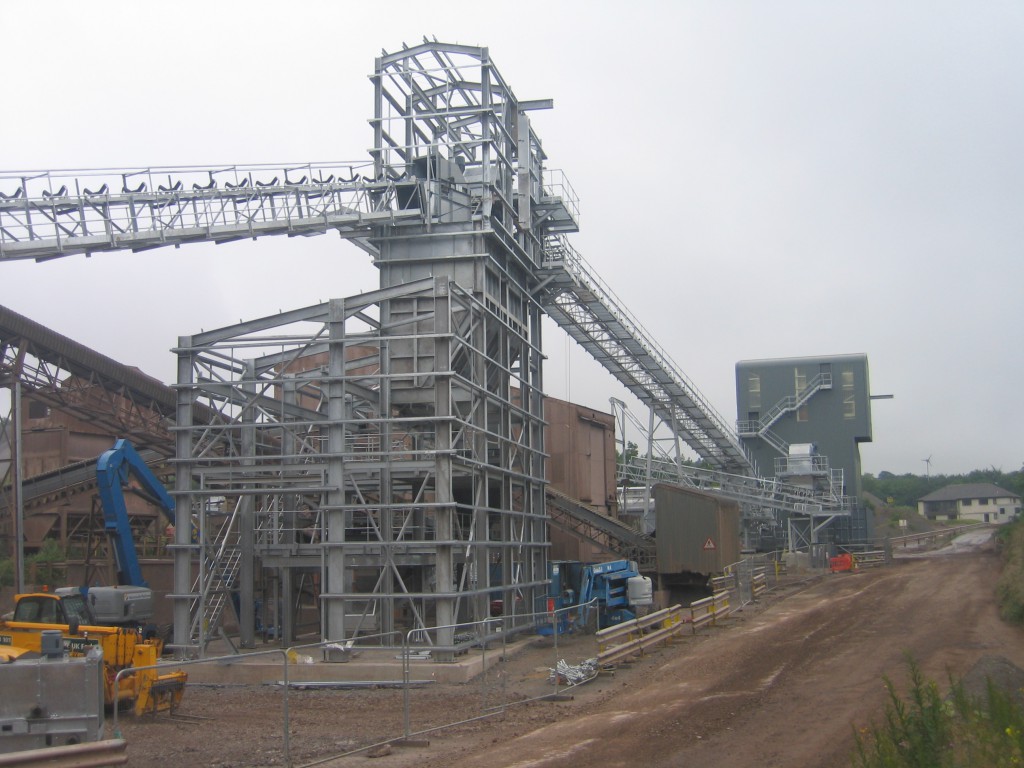 The foundations were laid in good time and the first steels were erected in the January of this year, amidst this winters snow and ice. As the main equipment for the buildings were free issued by the client and already on site (crushers and screen by Sandvik and scalping screen by TEMA) the build progressed well. Phase 1, including the secondary house, scalping belts and new lorry loadout conveyors were completed by the end of April.
For the full image gallery of the Wainwrights project then click here
For further information about John Wainwright & Sons and their operations then click here