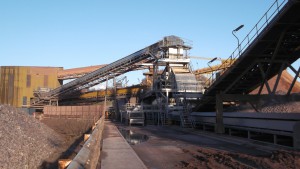 In July 2015 Centristic was awarded a contract by Hanson Aggregates to design and install a 10mm clean stone recovery scheme at their Whatley Quarry. The idea was to reclaim 10mm stone from the existing GSB circuit without reducing the specification of the sub base product or impeding normal stone production through the plant. The recovered material was to be either stockpiled or sent to the final screen house for dry storage.
Centristic worked closely with Hanson and the client project manager to engineer a design for the plant that would not only fulfil the requirements of the scheme but also allow for altered use in the future, as an addition to the existing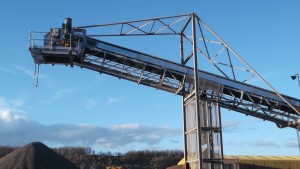 production plant.
Using Tekla Design software and via online screen sharing, the design was developed and approved without the need for regular face to face contact, which saved a lot of time, resources and travelling. The use of Tekla BIMSight models was also employed when giving presentations to Hanson management and staff. This form of modelling was an invaluable tool when designing access and maintenance in conjunction with Hanson engineering staff.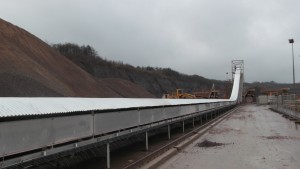 All fabrication was completed at our premises (Heathfield, Bovey Tracey) before being test assembled and sent for galvanizing. Consideration was given during planning to sequenced fabrication, allowing items to be returned to the workshop after galvanizing for preassembly, saving time on site. Direct deliveries were organised for fabrications that could be sent straight from the dip tank to site, reducing haulage needs.
The installation was completed with downtime kept to a minimum, by designing the new plant with straightforward interfacing of feed point within the existing bunker house, discharge onto existing C20 product conveyor and discharge to ground stockpile.
The build site itself was restrictive, with pedestrian, traffic, plant and delivery movements requiring thorough planning and management. Due to the nature of the quarry site, with train movements and heavy plant operating alongside road going vehicles and specific access rules, Centristic put in place traffic rules and a management plan for safe controlled access to Whatley. Hanson staff were also involved in the setting up of the plan which was sent to all suppliers for distribution to their drivers. These details were updated and redistributed as the site developed to ensure all were made aware of changing conditions.
The project was designed, fabricated, installed and commissioned on time, meeting the operational requirements laid out by the client.
For more pictures of the project, then please click here.