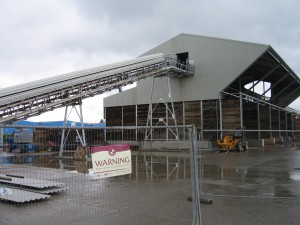 In May 2013 Centristic ltd were awarded the contract to relocate the existing rail off-load and tripper distribution plant at West Drayton to a new site at Heathrow, extending the main C3 conveyor and storage walls, along with alterations and improvements to the reception conveyor C1 & transfer conveyor C2.
Trains were frequent at West Drayton and often consisted of up to 26 rail wagons at a time, carrying approximately 70te per wagon. On some occasions one train a day was entering the depot. The existing system was not capable of accepting material at the full flow rate possible from the bottom discharge doors.
The last train to use the BDU at West Drayton was on the 23rd December 2013. The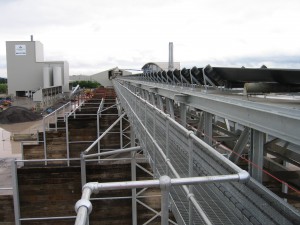 asphalt plant remained fully operational whilst Centristic dismantled the system. The BDU, transfer house and conveyors were dismantled first and modified on site so that the new layout at Heathrow could be achieved. C1 was shortened by approximately 4.5M and the legs extended allowing for more head room in the new pit. Centristic fitted their in-house space relief device, which would allow the wagon doors to be fully opened, and would prevent the belt from being overloaded, and furthermore, increasing the tonnes per hour.  A new drive and discharge chute was fitted to C1 improving material flow. C2 conveyor was shortened and the angle was increased into the transfer house. The transfer house was shortened in height and rotated around 180 degrees in its new location. A new improved discharge chute was installed between C2 & C3 conveyors, again improving the flow of material.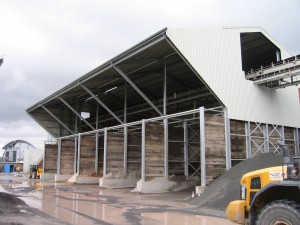 Once new steel sleepers were installed over the old BDU pit at West Drayton, trains came back on site and were unloaded by a 360 degree swing shovel, material was stored at every available space, including in the sleeper bays. It took careful planning between West Drayton's unit manager John Smith and the Centristic team to coordinate the removal and subsequent storage of the walls and sleepers, all whilst the unit was in full production.
Centristic designed fabricated and installed a new covered 5 bay building covering approximately 41Metres covering the first 6 bays of  21 in number. Gridlines 7 -16 were the existing sleeper walls at that were dismantled at West Drayton and re-erected at Heathrow. A further 6 new bays were erected between grids 16 – 22, along with an extending  C3 conveyor by approx. 72 metres and installing a new fully guarded GTU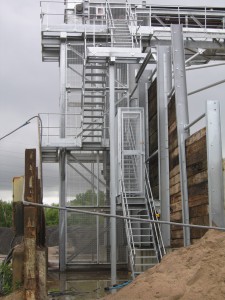 tower and upgrading C3 drive
Centristic successfully commissioned the plant and increased the flow rate to 2000tph.
The new site needed to supply the surrounding asphalt market nonstop all year round with expected volumes to be between 400,000 – 500,000te per annum.
For the full gallery of the work carried out on this project then please click here
For further information about Aggregate Industries and their operations then click here